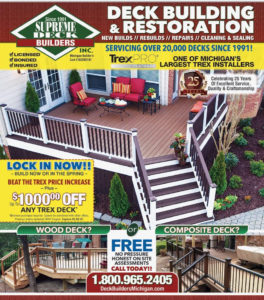 Free estimates: Brighton to Troy and Bloomfield to South Lyon.
Custom Decks Michigan
Trex Deck Designer
Licensed and insured deck builder in Michigan.
One of the top Trex deck installers in Michigan for 2022
Professional glass railing services including topless glass rails
TrexPro Platinum contractor, 25 year limited warranty on Trex decks
We are serious about delivering superior results, from concept to completion.
Ann Arbor, Rochester Hills, Northville and Novi
Michigan's best deck contractor
Extremely competitive on wood decks
Deck repair, restoration, cleaning company
Michigan's largest Trex showrooms located in Livonia
Deck builders near me | We service all of South West Michigan.
Trex Transcend Lineage new for 2023
The Stellar Service Award is presented annually to one TrexPro Platinum from across the US & Canada. This award is earned by installing a minimum of 50 projects and having the highest number of surveys returned while maintaining a customer satisfaction rating of at least 4 ½ out of 5 stars.
Trex deck builders in Michigan


Why you need to get a deck permit in Michigan
Overall, Michigan homeowners are surprised when they are told they need to get a permit in order to build a deck. It may seem like kind of a hassle, however it is well worth the small investment of time and money to ensure your deck is built up to code standards and is in compliance with local regulations.
Top Trex deck builders Michigan
Overall when you build a deck without a permit can get you into some serious trouble. Some people find out the hard way by having to pay a hefty fine, tearing down their brand new deck, or having someone get hurt because of faulty construction. Decks built without a permit can come back to haunt you when it is time to sell your house. Contractors can lose their licenses if they build without permits. Generally, the best option is to work within the rules and get a permit. In most cases, the inspectors are very helpful and willing to work with you to make sure you end up with a great deck that meets all the code
Largest Trex showroom in Michigan
Generally, decks that are under 30″ and under 200 sq ft do not need a permit. Decks that are below 30-inches above grade need a permit. The most recent edition of the International Residential Code exempts decks from permit when they are below the 200 sq ft. Considering those criteria…most decks will require permits. Deck Builders near me | Deck builders in West Bloomfield | Deck builders in Shelby MI Also Visit our Other site for more info
www.deckbuildersnearme.net